The Shark and Ray Touch Tank is temporarily closed for maintenance.
We apologize for the inconvenience.
Ocean-Inspired Books Recommended by Aquarium Staff
By New England Aquarium on Thursday, September 08, 2022
To celebrate back-to-school season, we asked a few people from around the Aquarium to share the books that inspired their love of the ocean and nature or taught them something about protecting our planet. Check out their recommendations below!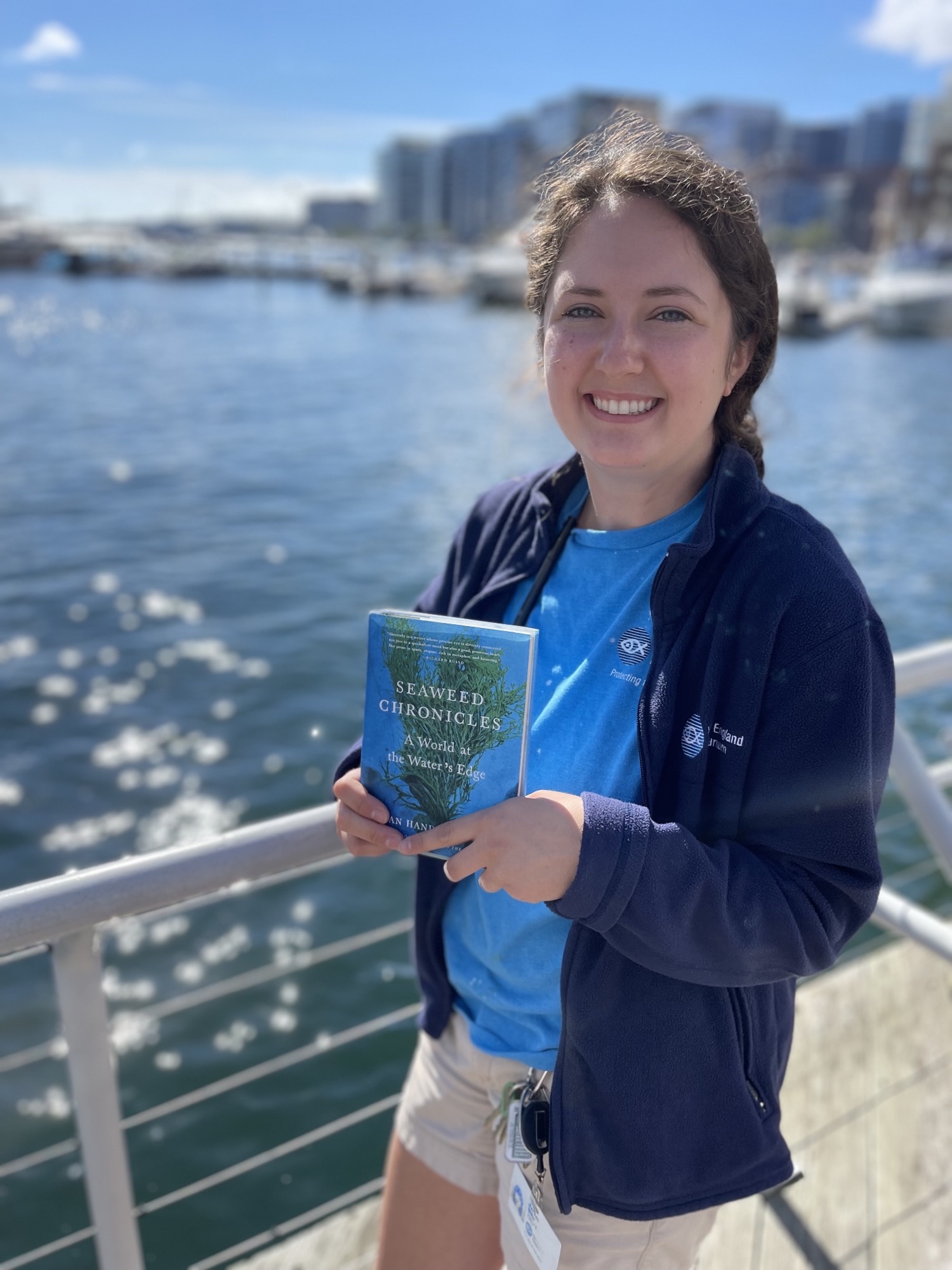 1. Seaweed Chronicles: A World at the Water's Edge by Susan Hand Shetterly
Recommended by Aquarist II Jordan
"Shetterly describes cold marine biota (plant and animal life) with whimsical enthusiasm—a tone that I thoroughly enjoy."
2. The Rainbow Fish by Marcus Pfister
Recommended by Senior Aquarist Lindsay
"I have fond memories of reading it with my grandmother as a kid, and it's a great story about generosity and friendship!"
3. True Confessions of Charlotte Doyle by Avi
Recommended by Right Whale Research Assistant Kelsey 
"As a kid, I was obsessed with the ocean and all the creatures living below, and this book made me fall in love with boats, sailing, and the idea that just as much adventure can occur on the water as beneath it. I wanted to be Charlotte Doyle. I wanted to sail the high seas, have adventures, and get callouses on my hands from working too many lines. So I did."
4. Never Cry Wolf by Farley Mowat
Recommended by Associate Scientist Emily 
"I was into lots of books about nature/animals. Mowat is a wonderful storyteller, and this book is both hilarious and poignant. When I was young, it helped inspire me to be a biologist by demonstrating two things: The importance of observing the natural world to better understand it, and the power scientists have to help change people's minds about animals and nature."
5. Fen, Bog and Swamp: A Short History of Peatland Destruction and Its Role in the Climate Crisis 
by Annie Proulx
Recommended by Senior Aquarist Allison 
"Annie Proulx's artful prose and meticulous research did the perfect job of blending history and ecology to illustrate how critical it is that we conserve our world's rapidly disappearing wetlands."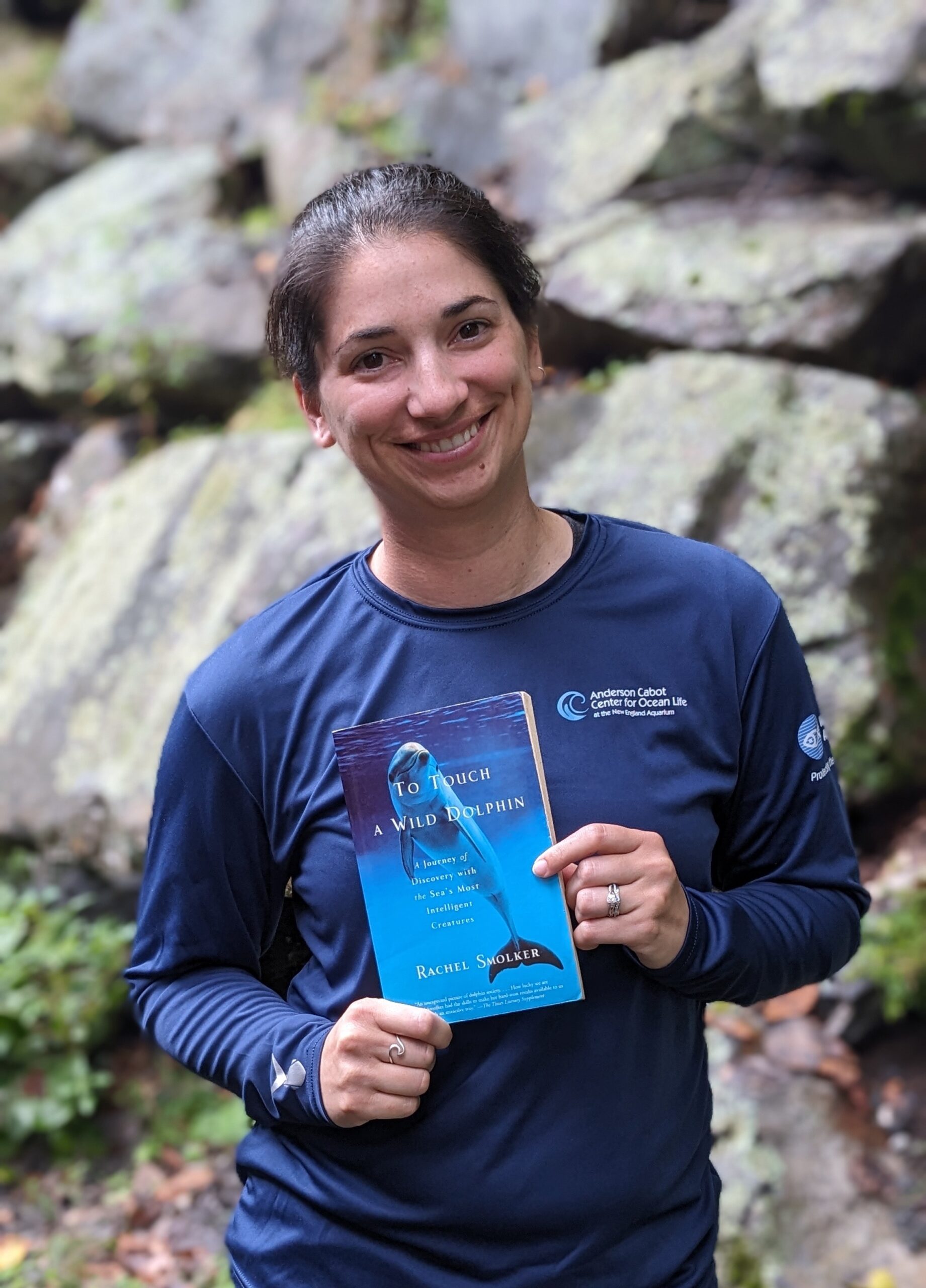 6. To Touch a Wild Dolphin by Rachel Smolker
 Recommended by Assistant Research Scientist Amy 
"This book was a huge inspiration to me in many ways as I was eyeing a career in ocean sciences. Not only was I able to 'ride along' with a female scientist as she navigated grueling fieldwork, but also could see how she turned a rumor into a full-blown research project. Especially in the times before Blackfish, it was enthralling to see so much being learned through observations of a wild dolphin population."
7. Sea Change: A Message of the Oceans by Sylvia Earle and A House For a Hermit Crab by Eric Carle
 Recommended by Aquarist Morgan Lindemayer
"Sea Change is a captivating look at the state of our world's oceans. It weaves a tale of beauty and appreciation along with the ugly truth that's hard to ignore. And, A House for a Hermit Crab helps kids to see that change isn't always bad in a fun illustrative way that only Eric Carle can accomplish."
Become an Aquarium Member
An Aquarium membership gives you access to all the wonders of our blue planet and supports our work to protect the ocean.