The Shark and Ray Touch Tank is temporarily closed for maintenance.
On Nov. 30, our elevator will be out of service for routine maintenance.
We apologize for these inconveniences.
In the Aquarium's state-of-the-art Simons Theatre, visitors are immersed in 3D films and spectacular cinematography on a giant screen nearly five stories high.
Artic: Our Frozen Planet 3D
Runtime: 45 minutes
At the very top of the globe lies a spectacular, frozen realm; a dynamic ecosystem where its indigenous people and wildlife have found ways to survive and live in harmony for thousands of years. Embark on a yearlong adventure across the seasons and three continents. Be immersed in the astounding world of narwhals, belugas, and polar bears as they navigate ice floes. Hear the thunderous sound of stampeding caribou and muskox, and be amazed by hooded seals that blow up red balloons and ice-covered bumblebees that emerge gloriously from their winter lairs.
Blue Whales: Return of the Giants 3D
Runtime: 45 minutes
Embark on a journey of a lifetime and explore the world of the magnificent blue whale, the largest animal ever to have lived and a species rebounding from the brink of extinction. From its almost incomprehensible size to its spectacular feeding habits; from the surprising role it plays in the health of our oceans to its awesome long-distance communications, the film provides an unforgettable window into the lives of these animals—and the extremes scientists must endure to study them.
Great White Shark 3D
Runtime: 40 minutes
Get ready for a shark's eye view and plunge straight into the underwater world of nature's most renowned predator. Great White Shark explores the great white's place in our imaginations and in its role at the top of the oceanic food chain. See the science at work behind that fearsome toothy grin and discover the importance of this spectacular species. Discover how great white sharks are perfectly adapted hunters that play a crucial role in maintaining the health of our oceans.
Incredible Predators 3D
Runtime: 45 minutes
Incredible Predators deconstructs the world of major predators as never before, taking an intimate look at the remarkable strategies they use to succeed. Advanced filming techniques expose the planet's top predators in extraordinary footage, putting the audience right beside them as they hunt—on land, under the sea or in the air. Far from a film about the kill, instead learn how these supreme species must be at the very peak of performance to have any chance of success. Incredible Predators reveals the unique relationship between predators and prey as a fundamental building block of ecology.
BUY INCREDIBLE PREDATORS TICKETS
Secrets of the Sea 3D
Runtime: 45 minutes
Prepare to meet some of the ocean's strangest and most spectacular animals. From adorable pygmy seahorses and opalescent squid to manta rays, tiger sharks, barnacle blennies, a coconut octopus, and much more. Come face-to-face with an astonishing array of marine species and see the fascinating ways they interact with each other and their environment. Many marine animals depend on one another for survival, and this intimate portrait demonstrates the critical importance of marine biodiversity to keeping our oceans healthy.
Special Events
Host Your Event Here
Rent the Simons Theatre for your own event! Host a movie party on our giant screen or use the theater's state-of-the-art audio-visual and streaming capabilities, and spacious auditorium as a venue for a private event.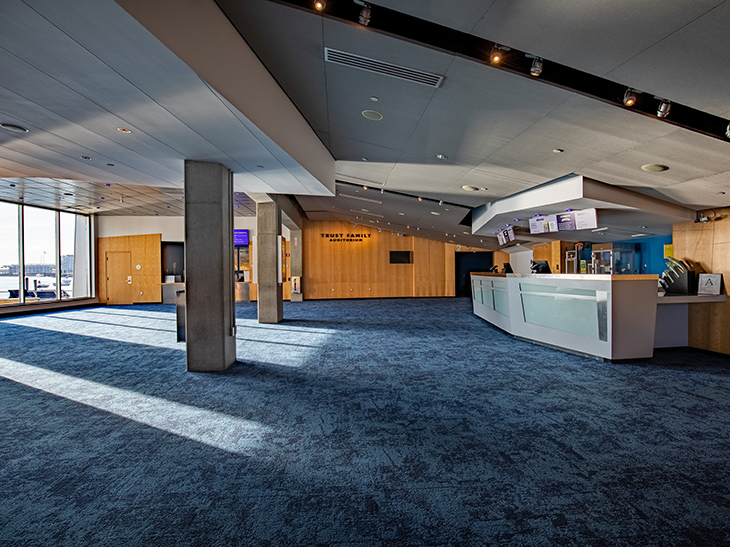 The Aquarium Experience
Save when you pair tickets to the New England Aquarium with a film at the Simons Theatre.