The Shark and Ray Touch Tank is temporarily closed for maintenance.
We apologize for the inconvenience.
The Ripple Effect
Capacity Sharing for the Ocean: Part I
By New England Aquarium on Friday, June 17, 2022

The United Nations has proclaimed a Decade of Ocean Science for Sustainable Development (2021-2030) to promote international collaborations to combat the ocean's biggest challenges. The UN endorsed a number of projects and actions that collectively will help achieve the goals of the Decade. In 2021, the Marine Conservation Action Fund (MCAF) Program's collaborative project with ten MCAF fellows and project leaders was endorsed by the UN Ocean Decade. The project, titled "The Ripple Effect – Capacity Sharing for the Ocean," focuses on collectively scaling up the support of local leaders in their efforts to promote learning, collaboration, and skills exchange with stakeholders such as fishers, youth, community members, and new emerging leaders in ocean conservation.
We understand that conservation does not happen overnight. In order for conservation to be successful, we must support the efforts of local leaders who, along with their communities, are invested in the continued success of conservation projects in their own country. We asked some of our project partners how they are having a ripple effect on the ocean, and why capacity development is so important in achieving the goals of the UN Ocean Decade.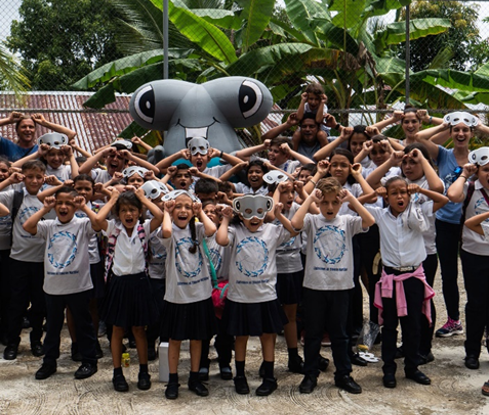 Misión Tiburón
Misión Tiburón is a Costa Rican nonprofit organization aiming to promote the conservation of sharks and marine life. It is co-founded by MCAF fellow Andrés López and MCAF project leader Ilena Zanella, and since 2009 has started different projects with sharks, mantas, and rays with the support of local stakeholders and governmental institutions. Misión Tiburón is having a ripple effect on the ocean by training the next generation of ocean leaders in Costa Rica and providing educational programs in coastal communities. Their Beca Azul, or Blue Fellowship, supports initiatives in marine sciences led by early-career professionals, with a special interest in Costa Rican women. Their Mujeres Martillo, or Hammerhead Shark Ladies program, seeks to train, empower, and accompany women from coastal communities of the Golfo Dulce Sanctuary, in new forms of blue economy, such as the "hammer" bracelets inspired by the iconic hammerhead shark. The organization also works with local communities and fisherman associations in their mangrove restoration projects in the Hammerhead Shark Sanctuary. An expert consultant helps them to train and involves them in restoration projects such as nursery building and seed planting.
Illena Zanella says, "The capacity development empowers the local communities, generating new leadership skills in locals, and an honest engagement in ocean conservation. The empowerment of local communities is essential to building creative solutions for the challenges facing the ocean."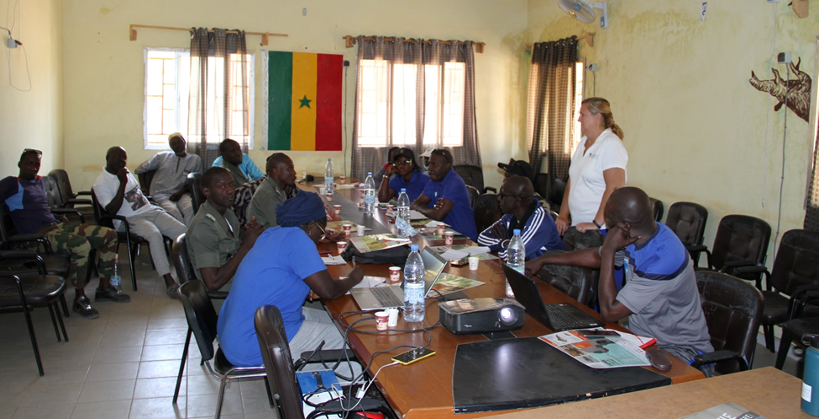 African Aquatic Conservation Fund
The African Aquatic Conservation Fund was created in 2014 by Dr. Lucy Keith-Diagne and Tomas Diagne to address the severe declines in African manatee, cetacean, turtle, and tortoise species that the witness first-hand across the African continent. Many of the African Aquatic Conservation Fund's capacity development initiatives have involved conservation training workshops and fellowship programs that will train the next generation of African conservation leaders. This investment in local leaders has helped increase the number of active researchers to at least 40 from two when Dr. Keith-Diagne started working in Africa in 2006. African Aquatic Conservation Fund also led the First African Manatee Symposium which brought together 80 manatee researchers and other attendees from 17 countries, with 34 presentations and three round table groups to discuss advances on action items from the Convention of Migratory Species African Manatee Action Plan. These symposiums can help the exchange of information between researchers of different countries.
Dr. Lucy Keith-Diagne says, "People need to be able to protect their wildlife resources in their own countries, so capacity development and access to resources for conservation is critically important. Without that, I don't see much hope for sustained conservation efforts in developing countries. It is also very important for people who have been trained to share their knowledge and train others, which doesn't happen often in African conservation. And capacity building must be sustainable. I meet so many enthusiastic and motivated young African biologists who want to do something to clean our planet, conserve and/or study wildlife, the ocean, or the environment, but they have few resources and opportunities to do so. I hope the Ocean Decade will raise awareness that countries need to do more to support people who want to contribute to protecting the world's oceans."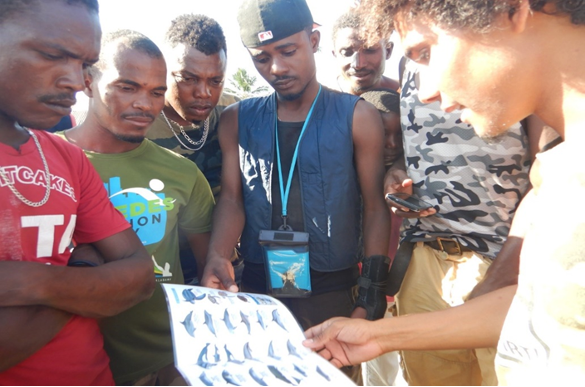 Haiti Ocean Project
The Haiti Ocean Project is a non-profit organization based in Petite-Rivière-de-Nippes, in the most southwestern region of Haiti. Founded by MCAF project leader Jamie Aquino, the Haiti Ocean Project emphasizes education and conservation, which over the past 15 years has created true environmental leaders. These individuals, who are the local coordinators for the organization, have developed their own programs and initiatives to train the next generation of eco-ambassadors. For example, they have a select group of young people between the ages of 15-18 who they meet with regularly. They have been learning all aspects of their marine conservation work, from tagging sea turtles to operating their boat.
Jamie Aquino says "Capacity development is critical for conservation because it can empower entire communities. We see the enthusiasm and excitement of their eco-ambassadors and commitment to protecting Haiti's endangered marine megafauna. These young people have shared their knowledge with their friends and families. Because of that, we have been even more successful in helping save these important marine species. The UN Ocean Decade is focused on sustainable development, which can only happen when you have the support of all local stakeholders, which is what we are achieving."
Planeta Océano
Planeta Océano is a non-profit organization—founded in 2007 by MCAF fellow Kerstin Forsberg—that is committed to educating and empowering coastal communities in Peru to sustainably manage their coastal and marine environments to have a ripple effect on the ocean. Their Marine Educators Network, formed in 2009, has engaged over 50 schools to date to promote ocean literacy in northern Peru. Teachers are trained in ocean literacy and connected to one another, as well as connected to other local stakeholders (e.g. fishermen, scientists, etc.). Ultimately, they incorporate marine issues in classrooms, connect their schools, and guide their students to carry out environmental campaigns (e.g. beach cleanups, parades, etc.), which in turn have a huge ripple effect on the local community. The local children and youth voices help spread the message of marine conservation. Similarly, their Connecting Schools program engages youth to learn about marine environments, as well as environmental leadership, project design, and implementation. Youth are guided to design and implement their own environmental project, benefitting their community. Participating youth also connect with other young participants from different countries or localities, expanding their global citizenship and recognizing the need to conserve our shared ocean. Planeta Océano also builds capacity and positive relationships within all their research and conservation efforts. For example, students and early career scientists are brought in and play a key role in their team, thus also supporting their professional development. They also involve volunteers as citizen scientists and small-scale artisanal fishermen, who have engaged in sea turtle research, shark and ray research, manta ray ecotourism, and more.
Kerstin Forsberg says, "Capacity development is critical for conservation. For the UN Ocean Decade to achieve its goals, we all need to strengthen our engagement, contribution and collaboration for the ocean. From students and children to scientists, government, corporate sector, among others. We all have something to learn: scientists need to communicate their science better, local community members need the tools to manage their environments, and companies need to understand their relationship with the ocean better. Effective marine conservation will only be achieved with local ownership, stewardship, engagement, and empowerment. We need to ensure that capacity development is carried out in a bottom-up way, together with local communities, according to their needs and local and cultural context. This approach also fits with the Ocean Literacy Framework for the UN Decade, basing itself on diversity and inclusion, and engaging a series of sectors to further learn about and contribute to the ocean in order to ultimately support the UN Ocean Decade and broader Sustainable Development Goals."
---
Stay tuned to hear more from our other project partners!
Let's Take Action for the Ocean Together
With your support, we can further our work to ensure a vital and vibrant ocean for all.