The Shark and Ray Touch Tank is temporarily closed for maintenance.
We apologize for the inconvenience.
By Vanessa Kahn
This post is one of a series on projects supported by the New England Aquarium's Marine Conservation Action Fund (MCAF). Through MCAF, the Aquarium supports researchers, conservationists, and grassroots organizations around the world as they work to address the most challenging problems facing the ocean.
In 2021, the New England Aquarium's Marine Conservation Action Fund (MCAF) launched a new program to support the development of the next generation of ocean leaders. The Early Career Ocean Professionals (ECOP) program is a microgranting program aimed at emerging leaders from low and middle-income countries who only have a few years of career experience. MCAF ECOP awardees lead their own small project with the mentorship and guidance of MCAF Fellows and Grantees. The goal of the ECOP program is to provide supportive pathways to careers in ocean conservation and to elevate the critical role of mentors. This year we were honored to award ECOP grants to three talented emerging leaders in Sri Lanka and Belize. We recently had the pleasure of asking them questions about core aspects of their work. 
Hafsa Jamel
,
Oceanswell
, Sri Lanka
Hafsa Jamel is a research assistant at Oceanswell, Sri Lanka's first marine conservation, research and education organization founded by MCAF Fellow Dr. Asha de Vos who also serves as Hafsa's mentor. For her ECOP project Hafsa is using geographic information systems (GIS) to map female-dominated spaces in small-scale coastal fisheries in Sri Lanka. This project builds on a recent groundbreaking initiative led by Oceanswell supported in part by MCAF and focused on The impacts of COVID-19 lockdowns on coastal fisheries in Sri Lanka.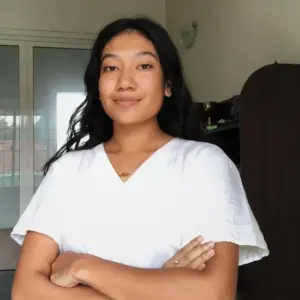 We asked Hafsa, what do healthy ecosystems and their importance mean to you and what is the most rewarding aspect of working with fishing communities? 
"A healthy ecosystem, to me, is an ecosystem where native species, ecological processes and the landscape are resilient to external stress factors. The importance of recognizing healthy ecosystems is to recognize the abundant services that benefit us as human beings while changing our perception of ecosystems as solely a place for extraction.  
The most rewarding aspect of working with fishing communities is learning about generational knowledge associated with coastal ecosystems and traditional practices, for example, in certain coastal regions in Sri Lanka, the locations of fishing grounds for mussels and clams are passed down through matrilineal lines! The recognition of local practices, paired with innovation, research and technology, could prepare us for anthropogenic changes to fishing grounds, influence market forces towards sustainable seafood industries, highlight traditional practices, to name a few of the various opportunities that exist for fishing communities. 
At Oceanswell we believe in oceans for all, forever. Every person can have a positive impact on coastal ecosystems and livelihoods, and the chance to share in all the wonders that the ocean has to offer. To find out more about our work, visit us at https://oceanswell.org/, and follow us on @OceanswellOrg on social media." 
Chiran Weerarathne
,
Oceanswell
, Sri Lanka
Chiran Weerarathne is a research assistant at Oceanswell, Sri Lanka's first marine conservation, research and education organization founded by MCAF Fellow Dr. Asha de Vos who also serves as Chiran's mentor. For his ECOP project Chiran is assessing the biodiversity of the shipwreck Thermopylae Sierra in Sri Lanka using Baited Remote Underwater Videos (BRUV's). If the results indicate the shipwreck as a biodiversity-rich and ecologically important site, that data will be used to discourage the salvaging of the ship through a process of stakeholder engagement and building public awareness. This effort builds on Chiran's recently published work using BRUV's.

With Chiran's focus on the shipwreck as a potentially vital habitat, we asked him, why is it important that we celebrate and protect habitats?
"Habitat loss is one of the major threats faced by wildlife largely due to direct and indirect human activities. Rapid urbanization is changing the landscape of our planet resulting in increasing vulnerability to climate risks and destruction of essential habitats along the way. Therefore, we must recognize and celebrate habitats for the benefit of all the living beings of the world.
Every habitat is unique and some need extra attention because of their vulnerability. Usually, people neglect natural environments found in urban areas due to the idea that development and the wild are separate, which is also why a day like this is important to celebrate habitats that allow people to understand the significance of a complex habitat. For example, a simple waterway that runs through a city might be home to a number of endemic flora and fauna and also act as a rainwater retention area. It is extremely important that we understand the importance of coexisting with natural habitats and the best way possible for us to manage and reap the benefits of the habitats for a sustainable future.
We all need to look around and appreciate the habitat we live in to understand the complex web of life around us. Habitat conservation begins with respecting nature and even our tiniest action can have ripple effects on vital habitats and put them in danger." 
Jonathan Triminio is a research biologist at the Crocodile Research Coalition (CRC) in Belize, founded by MCAF Grantee Dr. Marisa Tellez who also serves as Jonathan's mentor. For his ECOP project Jonathan will be studying the impact of contamination on Morelet's Crocodile (Crocodylus moreletii) in northern Belize's New River. His project was featured in an article in Breaking Belize, linked here. 

We asked Jonathan, What is one thing you think everyone should know about the reptiles you work with?
"Crocodylians are perhaps one of the most robust groups of animals the Earth has ever produced. Having faced extinction in many instances throughout their evolutionary history, these archaic predators are still here thanks to their biology and life-history traits. A crocodile is more than an apex predator; it's the result of almost 250 million years of evolution at work. The wealth of knowledge that these creatures can provide us through research is unquantifiable, with implications for various disciplines beyond Biology, including Medicine, Economics and Conservation. If everyone was mindful of this fact and saw crocodiles for what they genuinely are, perhaps the world could be a better place."