The Shark and Ray Touch Tank is temporarily closed for maintenance.
We apologize for the inconvenience.
Cool Jobs: Volunteers
Our volunteers and interns are integral members of the Aquarium community.
By New England Aquarium on Tuesday, January 18, 2022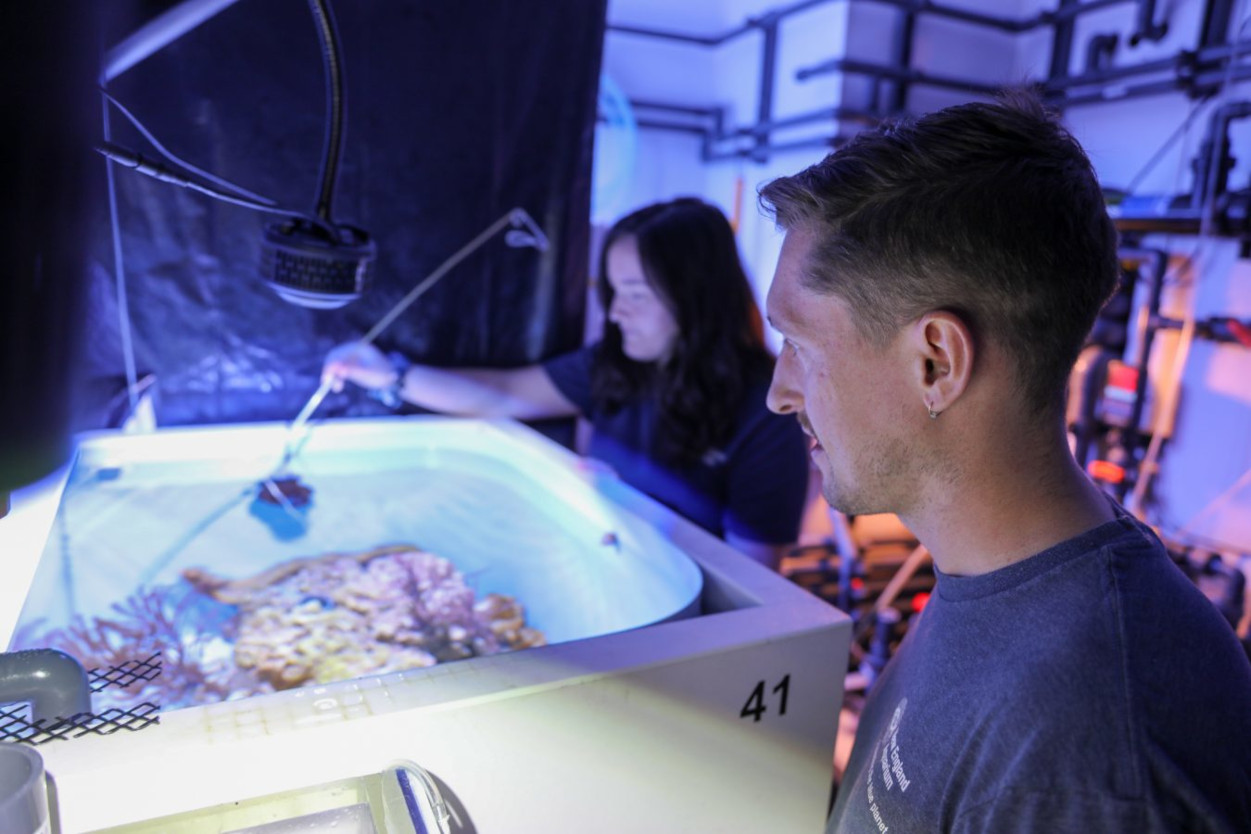 By Elena Britos
Behind the New England Aquarium's cavorting penguin colony, shark and ray touch tank, and gallery of corals lies another vibrant ecosystem: the volunteer community. While no one path to becoming a volunteer is the same, all Aquarium volunteers share an unstinting passion for marine life.
Every year, approximately 1,400 individuals commit at least one day a week for six months to support daily operations.
Beth Parkington, who grew up in Ontario, Canada, was shopping inside a Boston retail store when she first felt the call to volunteer. A fellow shopper had struck up a conversation with her about the Aquarium. This woman, Parkington learned, volunteered at the Aquarium. She enthusiastically described the Aquarium's marine animal residents, going into special detail about the penguins.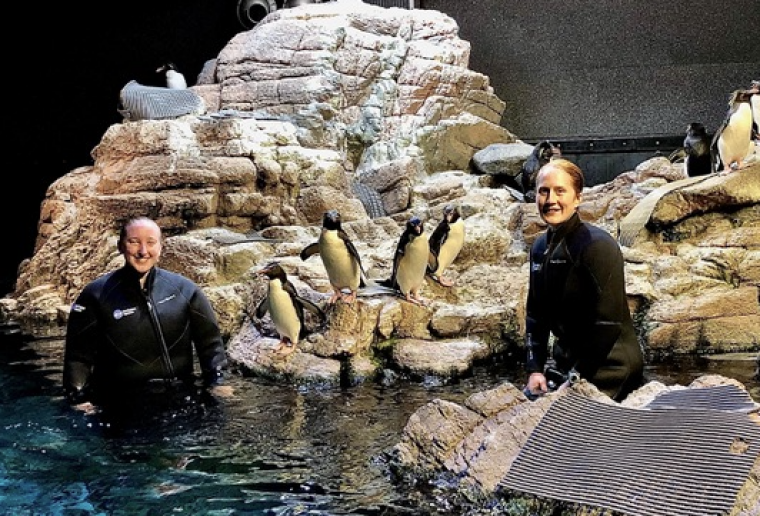 "I had assumed only staff could get into the exhibit with the birds," Parkington says. She marveled to learn this was not the case. "That day I went right home, found the volunteer page on my computer, and filled out an application."
Every Saturday since 2019, Parkington has worked with the Aquarium's penguins. For Parkington, participating in the afternoon feed is the most exciting part of volunteering. Her favorite penguins to work with are Sea Cat, a rockhopper penguin, and Brenton, an African penguin.
From feeding to cleaning tanks, volunteers are critical to the care of the Aquarium's unique marine animals.
Their participation allows staff members to focus on more specialized forms of animal welfare—often for endangered species.
Colleen Kiely, a Massachusetts native, first visited the Aquarium on a field trip when she was six years old. Fast forward to her senior year in college, and Kiely was taking a scuba diving class at the University of Massachusetts, Amherst.
"That class was so cool—it got me interested in marine science," says Kiely. "When I graduated, I saw that there was an opening for an internship at the New England Aquarium. I decided to apply."
Kiely started her internship with the Aquarium in September 2020. She enjoyed the experience so much that when it ended, she transitioned into weekly volunteering.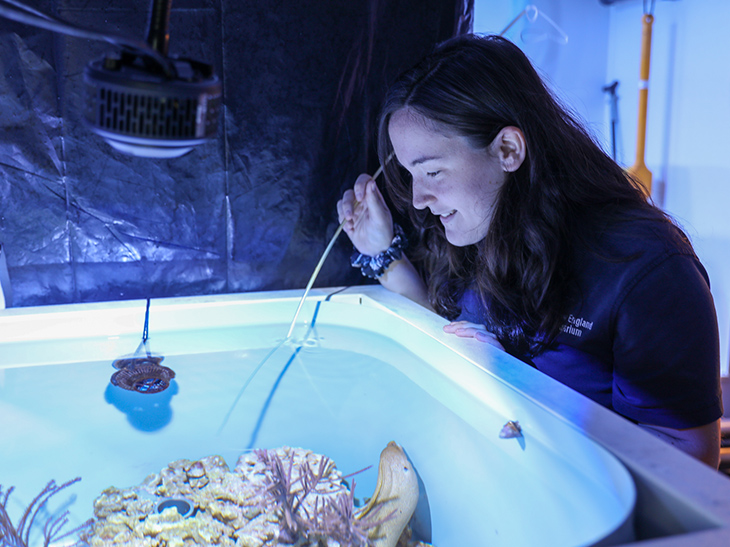 "I work mainly with corals, but sometimes with garden eels and dwarf seahorses. The corals are my favorite. We have some deep-water corals, which are more difficult to care for. They rely on plankton and other small organisms to get their nutrients. There isn't a ton of research on caring for these kinds of corals in aquarium settings, so we've been trying new techniques such as target feeding them through pipets to help them stay healthy. It's really cool to see them eating."
Not only do volunteers get to participate in cutting-edge animal care, they also form relationships with the broader Aquarium community.
"Sean Costello is my supervisor, and he is amazing at explaining the science behind everything we're doing," Kiely says.
"Sometimes I also assist Sean in the cold marine gallery, where Tatoosh the giant Pacific octopus swims over to say hello to me. I lunch with the other volunteers. Sometimes we'll all go to the beach at low tide to see marine life." For ocean lovers, the Aquarium's harborside Boston location has its advantages.
Meghan Sawicki, another Massachusetts native, goes as far as to say that volunteering has changed her life. The Aquarium is one place where she feels she can make a difference every time she visits. Like Parkington, Sawicki works with the penguins.
"I'm surprised at how much I learned so quickly, and how easily I grew attached to the birds," she says. "They all have their own personalities and I have loved getting to know each one of them." Of the rockhoppers, Falkland is her favorite. Rockhopper penguin Falkland is identifiable by the red and green band on her right wing.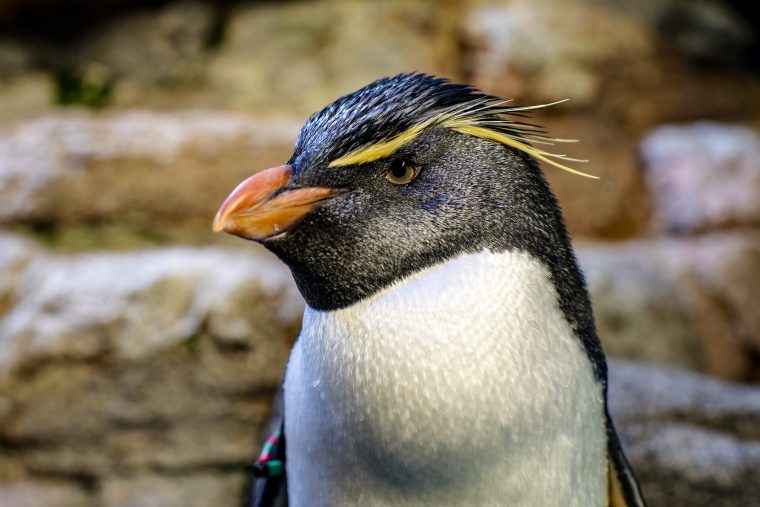 Sawicki started volunteering in 2017, and while she is an animal lover through and through, over the years she has come to find that the best thing about the Aquarium is the people.
"We take care of the birds, but we also take care of each other," she says.
This story originally appeared in the Spring/Summer 2021 issue of blue member magazine.
Let's Take Action for the Ocean Together
Membership, volunteering, advocating, or attending events are just a few of the ways you can join us in protecting the blue planet.