The Shark and Ray Touch Tank is temporarily closed for maintenance.
We apologize for the inconvenience.
"Incredible Predators," "Wings Over Water," and "Superpower Dogs" debut in 3D starting Nov. 1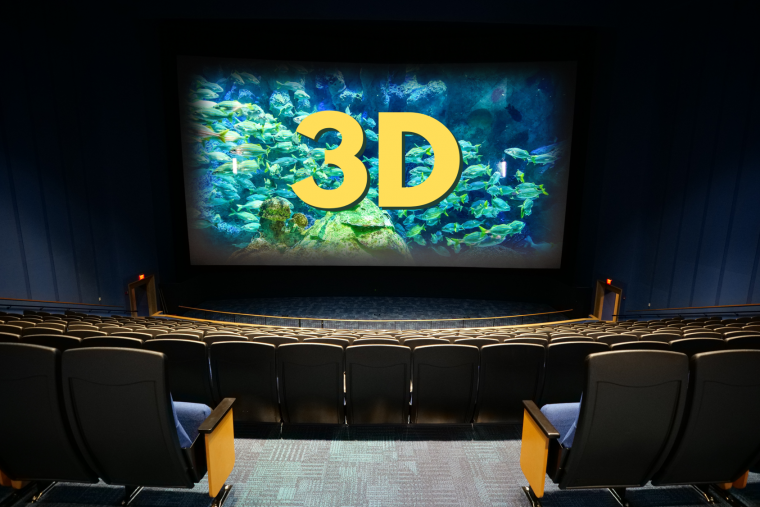 BOSTON, MASS. (Nov. 1, 2022) – The New England Aquarium is reintroducing three popular films in 3D and in their full 45-minute length at its Simons Theatre, including Incredible Predators, Superpower Dogs, and Wings Over Water. Starting November 1, visitors can see extraordinary animals in action through this multi-dimensional lens as birds, dogs, and other creatures hunt, interact with their fascinating environments, and build bonds with their human companions.
These films were specifically shot and formatted for a giant screen, with unmatched visual and audio technologies, creating an exciting cinematic experience in the spacious and comfortable Simons Theatre on the Aquarium's Central Wharf campus, which has one of the largest screens in New England.
The daily film schedule is being expanded to include longer-versions of the films, featuring on-the-hour showings Monday through Friday from 10 a.m.–4 p.m., and Saturday and Sunday from 10 a.m.–5 p.m. To build on the movie-going experience, promote advocacy for the ocean, and ignite the curiosity of learners, educator guides, activities, animal facts, and more can be found here.
Switching to 3D format are:
Incredible Predators, explores the world's major predators at the peak of their performance, showcasing the unique the strategies that they use to succeed. Advanced film techniques bring audiences alongside these hunters to reveal the foundational ecological relationship between predators and prey.
Wings Over Water, narrated by Michael Keaton, shares the compelling story of three amazing bird species—the Sandhill Crane, the Yellow Warbler, and the Mallard Duck—with extraordinary footage of their fascinating behavior. Explore the little-known water highways of the Great Plains, created by glacial movement at the end of the last ice age. These waterways mark an astounding gift of connected rivers, lakes, and wetlands across the heartland of North America that support the remarkable birds of the prairie.
Superpower Dogs, narrated by Boston native and "Captain America" actor Chris Evans, transports viewers around the world to meet the incredible dogs who save lives and discover the special bond they share with their human partners. Learn the science behind the canine superpowers that allow these dogs to achieve feats of bravery alongside their human companions who fight crime and save lives during earthquakes, avalanches, and sea storms.
Remaining in 2D will be Cephalopods: Aliens of the Deep, a standout film from the summer that presents an intimate portrait of octopuses, cuttlefish, and squid captured over three years using macrophotography. Viewers will see the magical world of these fascinating aquatic species and discover their unique physiology and what makes them survive against all odds.
For a top-notch theater-going experience, the Simons Theatre has 378 plush high-backed seats and creates an immersive experience for audiences to see films on a giant 80-foot-wide, 43-foot-high projection screen with razor sharp images and wrap-around digital surround sound.
In keeping with the Aquarium's mission to protect the blue planet, the Simons Theatre features new carpeting made of 100 percent recycled yarn from discarded fishing nets and a new digital 3D projection system that reduces electricity usage by 40 percent. The theatre also includes a new cleaning system for 3D glasses that uses less water and electricity.
Tickets are available for purchase online here. The Simons Theatre is open seven days a week during Aquarium visitor hours.
MEDIA CONTACT:
Pam Bechtold Snyder – psnyder@neaq.org, 617-686-5068